I made mention on the introduction to the Blog that we are nuts about camping. In fact, we love camping so much that we would like to do it 365 days a years! At this moment in time it is not possible for us to do that, yet. Stay tuned though, because we plan on taking the leap from 6 months a year to full time within the next several years.
Our 2006 Gulfstream Conquest 29FKS is the one we chose for living the dream. People instructed us that you are supposed to name it, so we call it Wheelson.
I bet you are wondering what we do all day every day camping, well not all day. Let's just say that for at least 8 hours a day and every weekend we feel like we are on vacation, or semi-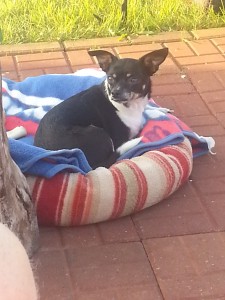 retired. No campsite is complete without man's (and woman's) best friend. Our friend and best little buddy is a 10 lb chihuahua named Tank.
Of course camping wouldn't be complete without some outdoor cooking. At our campsite we use the open fire, a smoker, a grill, and new this season our Instantpot pressure cooker, more on that later!
More on the camp cooking in another post!